Optimaxx are always looking to improve and innovate using our core ethos "Optimum Design, Maximum Performance". That is why we are beginning our transition to our new and improved Maxxtubs. The design of which is shown below.
Those who have had the opportunity to try Optimaxx Stainless Steel Decking Screws will have had an advanced look at the upcoming design of our Maxxtubs. The new tub includes all of the advantages one would expect. These include an integrated, fold-down carry handle as well as the ability to stack multiple tubs neatly and securely atop one another.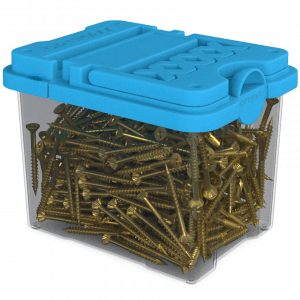 Aside from the new lid's unique look and the fact that it represents the broader design philosophy of Optimaxx, they come with a variety of bonuses to benefit the end user. For example, the lid itself opens without the need for removal. The lid can then lock in this upright position using a large easy access locking mechanism. This leaves 2/3 of the tub's contents exposed for easy access to the screws when working on a project.
The new lid has a built-in retention for 4x 25mm long driver bits which can be found on the interior of the lid. On purchasing, this is also where you can find the Optimaxx Impact Bit which will come included free with each Maxxtub purchase.
The new Maxxtub design is built with our Zero100 initiative in mind. The storage container is built using 30% recycled plastic. When you are finished with it, the tub is fully recyclable also. This has not come at any compromise to the container's integrity. We have ensured that our new Maxxtubs are optimised for the worksite, not only are they convenient but they are also fully drop-tested to over 1m even when filled.
While we make the transition from our old tub design to our new one, why not explore our range of wood screws on offer here.